Ha! Is this the first beast you throw at me? Through my powers of deductions I have ascertained that Green and Blue are masculine colours for a lass of her caliber. This only leaves us with the colours Pink and Purple, which while similar in nature have one major difference. Pink is usally associated with Girls, and young ones at that. This Cyrus wench is trying to break out of this "Hannah Montana" motif and thus association with this colour would be a link back to that child pleasing past. Hence the only safe option to go for is Purple, which is close to pink but safe enough to avoid the connections.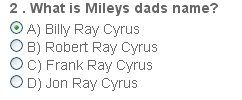 The foul harpy actually has PARENTS! I though she was a souless slave crafted from the Disney flesh vats. No matter they do not know the likes of whom they are dealing with for I have connections. I worked in a music store when "Breakout" was released so there was quite a few people about who knew about the witch herself. I believe the name Billy came up in conversation once so I'll go for "Billy Ray Cyrus".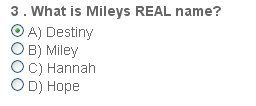 WHAAAAT! This coniving minx has THREE personas? Well no matter through my Batman like detective skills I shall root out the true answer. I'm automatically disregarding "Hannah" for being the title character of a show and "Miley" for the obvious reasons that it's asking me for her REAL name. So it's a choice between Hope and Destiny. Fuck. I honestly have no clue. I'm going to flip a coin for it. Heads Destiny, tails Hope. Heads won. Destiny it is then! Moving on.
Hell if I know. I quessed
Again I'm still reeling from the shock that she actually has family. None the less I think I'll have to guess again. Gramps it's your turn to die...sorry.
16. Don't ask. Moving on

Oh come on, any Yokel with a quater of a brain knows that one.
So which hick state did the Disney cash cow come from? Fuck. I dunno. I'm going to go with Tennessee since thats where they keep Walt Disneys frozen body so I'm guessing thats where they keep the evil experiments that Disney wants to keep hidden from the world.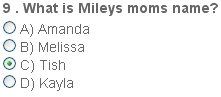 Tish sounds suitably white trash alongside Billy. I quess nobody would miss the two Rednecks that Disney kidnapped for their grim money making scheme for world domination. As you can probably tell I'm winging it again. Sorry for placing the future of our honour on the line of so many guesses but such is the gamble for men of valour such as myself.
Oh now your just taking the piss.
So now we see the fruits of my ten labours. Shall we be absolved of the mocking ads placed here by the mighty Google?
Sucess!
My friends I have walked throught the valley of the shadow of pop culture. I feared not what horrors Disney and Google held in store for me and I have come out the other side with the victory that I sought but at the cost of my immortal soul. Oh well at least I got a free ring tone out of it
*The Seven things I hate about you. Your hair....*