i dont want to waste to much time here, but whats a movie all the girls (well, atleast all i girls I KNOW) went to see last year?
Yes, Twilight. A shit bomb that combines two things that should NEVER EVER BE PUT TOGETHER.
Vampires and Romance. Not to mention GAY LOOKING VAMPIRES.
Let's recap on what I said earlier:
Luigithehomie1991 wrote:
Overrated: Twilight.
Now to be honest, I never liked it to begin with, but I went and SNEAKED BOTH ME AND MY (then) GIRLFRIEND INSIDE TO SEE THE FREAKING MOVIE and ALMOST GOT CAUGHT.
I'd rather fucking see some Scary Movie 3 or 4. Twilight was horrible as hell. My girlfriend was yanking my arms and squealing yelling
"LOOK! ITS EDWARD, HES SOO CUTE!!!"
and
"OH MY GOD JASPER IS SO HAWT!!!"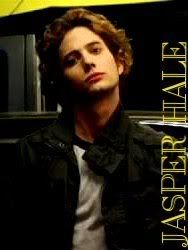 They're both ugly to me

You could imagine how I felt.
I could make a whole topic about how I hate this movie. But let me put it short.
Shit.
To begin with, i was 3 bucks short of paying both me and my girlfriend in. So, naturally, I decided to sneak us both in. When we were both about to go past the gate and into the room, a security guard catches us and asks us for out tickets. I was nervous and was about to say something, but luckily, one of my girlfriend's friend was by and we said she paid us in, and she had 2 tickets (for her little brothers) and let us in.
Now that THATS OUT OF THE WAY, the rest is in my topic.
As soon as Edward or Jasper was on screen, all the girls would squeal and moan and cry their names out. My girl was going nuts, and I hated that, because... well, IM YOUR BOYFRIEND, not THAT.
Besides, theyre not even that hot.
HOT would be:
as for the rest, it made no sense at all.
The girl never seems to win. She was fucking dumb.
HOW CAN YOU NOT TELL HE'S A VAMPIRE?!?!?! YOU DUMB BI&#&!
Whn the movie was over, i was braindead, I was lost. My girl went nuts, and then began to love Edward and Jasper... and left me for them.
I really hate this movie, i really do.
TO HELL WITH IT.
Now its your turn. Why dont you say what you think of the movie?