FIXED AN ISSUE IN THE CONFIGURATION FILE WHERE THE TANDY DAC MESSED UP SOUNDBLASTER EMULATION
so we got a small guide here i felt like making if anyone ever has trouble with it they can just look at this documentation.
This guide is based on the Windows Version and only the windows Version. this will be updated in the future for Mac's as well as Linux.
Step 1:
Downloading Dosbox
you can't fuck this up no matter how hard you try. Simply click on the link below and install it.
Choose your poison
DOSBOX.72
DOSBOX.73
DOSBOX.74
Step 2:
Locating the program AFTER install
after the program is installed you want to find it. most likely you can find it under "C:\Program Files\DOSBox-0.72"
GO THERE!
for DOSBOX.73 & .74 users just use the startmenu to find the config editor it is now freely configurable there.
Step 3:
editing the "dosbox.conf" file
for DOSBOX.73 see line 11
in "C:\Program Files\DOSBox-0.72" there is a file there called "Dosbox.conf" double click it and open with notepad. Copy and Paste this INFO given in the spoiler. there are two different ways since 98SE and XP are different so if you desire a CDROM drive access be sure you are using the right config file when copying and pasting.
FOR WINDOWS XP USERS VISTA INCLUDED for .73 & .74
FOR WINDOWS XP USERS VISTA INCLUDED
FOR WINDOWS 98/98SE USERS .73 & .74
FOR WINDOWS 98/98SE USERS
with everything said and done SAVE & QUIT
Step 4:
WE ARE NOT DONE YET
ok
when looking at the AUTOEXEC section you notice "mount c c:\DOS" but, "c:\dos" does not exist yet.
what needs to be done is to goto MY COMPUTER and double click "c:" once inside Create a "NEW FOLDER" and name that DOS. Once done you want to put your DOS games in that folder for it to look something like this.
Step 5:
Running dosbox
simple. start>programs>dosbox-0.72>dosbox (noconsole)
once the program is running you should see "C:\>_" if you don't see it at all and all you have is "Z:\>_" you fucked up the config file or you did not make a "c:\dos" folder BE SURE TO DO IT! to see if any of this bears fruit simply type "dir/w" and press enter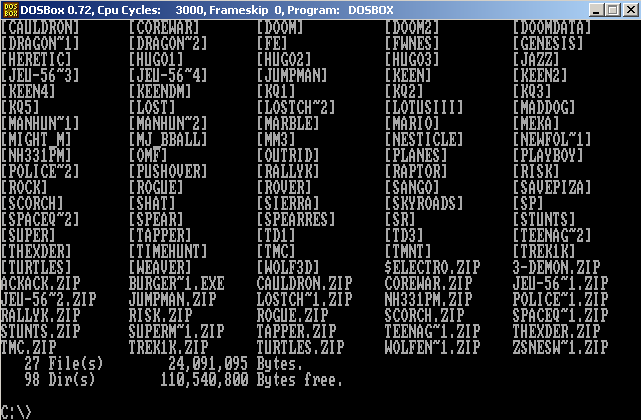 to go where you want to go simply type "CD *name of folder*" so if you wanted to play Wolfenstien 3D you'd type, "cd wolf3d" and press Enter then type wolf3d again to load the game. to be more specific you want execute the .EXE file becase thats the program you want to run. depending on that game, if its a really old game, it will sometimes be a .COM file it functions the same way as a EXE file.
Smidge's way of doing it.
Quote:
If you have dosbox installed via the installer to a location like x:\program files\dosbox\, Windows Vista nowadays makes copies of config files in your user directory.
This means the ones in the installed directory might not be the ones you can or want to edit.

The easiest way I always set up dosbox is to download the binary version not the installer version.

Unzip the dosbox zip to a dir like x:\emu\dosbox\

You will have skipped the need to install, and the dosbox.conf will be editable for sure.

I hope this information helped.
an alternate way if you can't find a binary simply just download the installer and make sure you don't place it in c:\program files\
instead of putting it in the default folder simply put it anywhere on the root of the drive under "dosbox" so it'd look something like this "C:\dosbox" this should work because its not under the program files area.
DOWN AND DIRTY LINUX
Z:\>MOUNT C /home/user_name/DOS
Z:\>MOUNT D /MEDIA/CDROM/ -T CDROM
Users of the current version of Ubuntu (9.10 Karmic Koala) may notice that the above command doesn't work. This is because CD-ROMs are mounted based on their label and do not share a common mount point. Open the CD-ROM in Nautilus (or your preferred file manager) to determine its label. Use this command instead, replacing values as appropriate for your system:
Z:\>MOUNT D /MEDIA/CD_LABEL/ -T CDROM -usecd 0 -ioctl
dosbox in some cases have the config file hidden in the folder at location /home/username/.dosbox