Now, I've been playing Sonic since I was a wee little lad. I sometimes see a lot of people on different gaming sites with Sonic in their avatars. (Let me throw this out there now, I'm not attacking any one person).
There seems to be some sort of confusion on what and/or who Sonic is. First off, if you like Sonic, how the heck can you justify that awful music from the last few games, since I hear people say they like it on many, many other occasions. That nasty butt rock conspired in a garage somewhere. Nobody should be tortured into listening, or liking it!!!
It's probably the worst videogame music I've ever heard. I think the last GOOD tune I heard from a Sonic game was 'White Jungle', that I really liked anyways. Let's also get a few things straight here, I'm a Sonic master. I fly through the levels with a 'way past cool' attitude. I eat chili dogs and poo Chaos Emeralds. I have Metal Sonic tattooed on my back, and my first son's name will be Miles Prower Kilgore.
*I get the feeling all of you think I'm joking*
Well, I'm not. Ok, next thing. If you like Shadow, you're an impostor. Or, maybe I just don't understand the interest in him due to age difference and well... The fact that Sonic should always be the number 1 defacto in a Sonic game. Shadow seems to me like a way of extending the rotted corpse of a franchise called Sonic the Hedgehog.
And if you own Shadow the Hedgehog, and were excited about it. I wish I could find all of your address's so I can personally smack you in the face. From what I see here, the game pushed over a million units with the GC and PS2 combined. So, I know you guys are out there, just watch yourselves.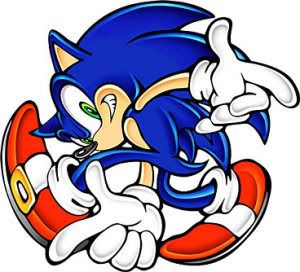 Now, as you see above this is what most of the mainstream these days see Sonic as. Which, I don't mind the green eyes. I think the change was good. Maybe he had stroke, confining in the way he's just been stumbling around these last few years. So that makes sense.
But, if you're like me. You know exactly what Sonic should look like. Before the anime-esqe crap. Before the horrific dialog that killed his 'Cool' image. It was only this...
Damn, I mean look at that beast. He doesn't need any cool awesome pose to get by. He's just standing there as to say, "Look, I'm about to jump on you and bop your face. So, say your robot prayers." You know, I think that's what it was. When Sonic didn't talk, we each had this little dialog in our head for him. Which in fact, made him cool. But, after he opened his big fat mouth, all hope was lost.
Anything after Sonic Adventure really didn't strike on cord with me. SA2B was barely passable in my eyes. You might say, "Dude that was the best Sonic!". Thing is I'm pretty confident in saying no, it wasn't. The best would be Sonic CD, in my opinion. That was the best sonic game.
Let me put it this way, if some of you guys like Sonic, I understand that. But, for god almighty. If you haven't played the originals for the Genesis, SegaCD, and even the Master System. I suggest you stop reading this and go do it now. The music, although on the Genesis's weak sound chip was still leaps and bounds past this poo you call Sonic music.
/Rant off